I think the environment is rebelling.
Hurricanes in New York, blizzards in Brazil, and heat waves in Russia. Now there is a gas shortage and practically a blizzard! Maybe the Mayans were on to something with the world ending...
I mean I STILL don't have power! (9 days and counting).
The hardest decision that must be made when there is a mixture of torrential downpour and massive snowflakes?
...What to wear of course! (I know I'm so predictable).
I find rainy days particularly hard to dress for because there are a limited number of shoe options, umbrellas are a tad impractical for school, and I'm pretty sure I don't own one item of clothing with a hood, other than my old sweatshirts from bat mitzvahs past, which, trust me, you don't want to make an appearance on a fashion blog anytime soon.
So I find my only shoe options are rain boots (not super surprising). But rain boots can still be chic right...?
Well they're not a hopeless cause. I've been looking for the perfect pair of leather riding boots and stumbled upon these on the left, which I have since declared my dream rain boot. They are a unique color (described as Anthracite by Bloomingdales), have a tall shaft (lengthening for short people like moi), and have a totally useless buckle on the side, the stamp of a good riding boot. Shop

here

.
Unfortunately, I just cannot fathom spending $450 on rain boots, which can really only be worn on special occassions such as the lovely 'nor easter blowing through New York at present. So I forced myself to succumb to the shoe of choice at my school and buy a pair of Hunters, at right. They just don't have that same cool factor that the Ralph Lauren ones have, but these are the prices we pay to eat and whatnot. The ones I own are actually more of a gray-appaarently they were shipped to Bloomingdales black like the ones above but chipped over time and have an awesome crackle affect. At a relatively reasonable $135 (I got mine on sale for $80), they do their job and are still cuter than any alternative rain footwear. Shop

here

.
As far as jackets, a trench coat is always great if your dying to emulate a put together city dweller and/or character from a spy movie (perfect with the new James Bond movie coming out); however, it's again not so practical for school. So until the time comes that I actually am a put together city dweller or the new bond girl (doubtful), I decided a cute

Free People

puffer coat would suffice. It's lightweight, has cute details all over it, and, though not explicitly sold as a rain jacket, waterproof.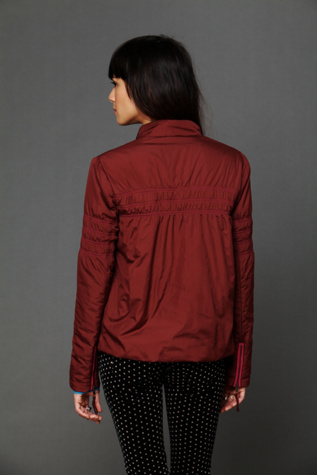 Still no hood, but who really needs one anyway?
If you are planning on walking outside extensively, then you will have to get a chic umbrella; it would be just wrong to have a generic one.
For those with unlimited budgets, I would highly recommend these

Felix Ray

umbrellas from Shopbop (the

cheetah

one is on sale!). They will go with and enhance any outfit so much that you may want to remain holding it once you go inside just because your outfit would not be the same without it.
A more affordable option

here

.
Who says rainy days can't be just as stylish as any other day? Enjoy the storm!
xo, Scatter Girl